Here's this week's top college football news. We'll post the top CFB headlines and happenings in this format at the start of the work week.
The Big 12's Expansion Choices Are Submitting Their Official Applications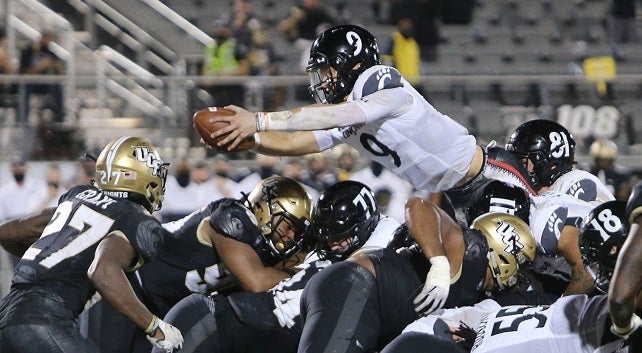 Both Cincinnati and UCF have confirmed submitted their applications to join the Big XII. It is expected that the other two rumored expansion selections, BYU and Houston, will also submit theirs by the end of the week. Additional rumors suggest that the new members could be approved as soon as the weekend. BYU would be able to join as early as next year due to being an independent, but the other three schools would have to complete negotiations with the American conference as they are under contract through 2025.
Michigan State Football Players to Receive $500 Stipend from United Wholesale Mortgage
We've seen some wild Name, Image and Likeness (NLI) contracts now that players are allowed to receive money for their brands. But, in a wild new deal, every Michigan State football player will now receive a $500 monthly stipend (including during the offseason) from United Wholesale Mortgage, owned by an MSU alum. Who wouldn't want to play for that kind of deal? We expect to see more of the biggest NLI deals come from P5 teams in the coming months.
Iowa State to Wear Black Uniforms vs Iowa
Normally a uniform announcement wouldn't make our top headlines, but this reveal has stirred up the bad blood between Cyclones and Hawks. The Iowa Hawkeyes are one of a few schools to use black as a primary color, and they have a history of getting ticked off when other schools wear black jerseys against them for this reason. So, having their biggest rival in the Iowa State Cyclones wearing all black has made some Hawkeyes blood boil. We'll see it settled on the field this weekend in the first Top 25 match up (and both Top 10 nonetheless) of the CyHawk rivalry.
Bookmark CFB Select (Ctrl+D on most browsers) to stay up to date on the latest CFB news!