By JD Strong (@Sidelines_UK)
Hello Kentucky fans, here's an update on both Basketball and Football recruiting.
Kentucky Basketball Recruiting
We've gotten two commitments within the last week. 
We got 2022 Combo Guard Skyy Clark on Thursday, October 22. He chose us over schools like Arizona, Kansas, Memphis, North Carolina, Oregon, Tennessee, and UCLA, and these are just a few out of the many offers he had. I believe he is the best guard in the class. He will bring his shooting ability and his good defending to Lexington, whenever that will be. We probably will not know if he will reclassify to the class of 2021 for a while. 
Then, we got 2021 Power Forward Bryce Hopkins on Monday, October 26. He chose us over schools like California, Illinois, Indiana, Iowa State, Louisville, Michigan, Oregon, Providence and Texas. Again, these are just a few out of the many offers he had. Bryce will bring a PJ Washington type of game when he comes to Lexington next year. He is a good shooter and an active rebounder. I think he will be in Lexington for two years – let us know what you think in the replies to this post.
Who is next?
They are many people rumored to be committing to Kentucky soon. I believe one of these people will be committing to us within the next few months. Those are 2021 Combo Guard Jaden Hardy, 2021 Power Forward Daimion Collins, or 2021 Combo Guard Hunter Sallis. They all would be amazing pieces for our team next fall.
And now to the other side of recruiting – football.
Kentucky Football Recruiting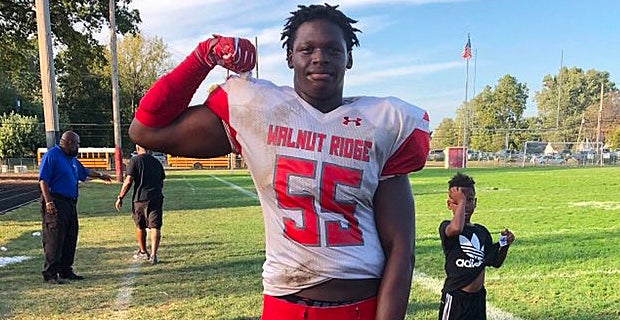 We got a commitment from 2021 Defensive End Jamarius Dinkins on Thursday, October 22. Jamarius is the first football commit since Jager Burton committed on August 30th. He is our 17th commit for the class of 2021.
Who is next?
It seems up in the air when we'll get our next football commitment. Here are some potential names to keep an eye on:
First is Massillon, OH Running Back Kyree Young. Kyree has offers from Alabama, Iowa St, LSU and Tennessee. He is a 3 star, but he plays much better. We always have a lot of running backs so he will fit in really well. 
Next is Bowing Green, KY Tight End Jordan Dingle. Jordan has offers from Purdue, Vanderbilt, Arkansas, Ohio St, Missouri and Virginia Tech. Why do I say Jordan? We will need Tight Ends soon. Justin Rigg is a senior this season, so we will have to replace him. We do have other Tight Ends like Keaton Upshaw and Brenden Bates, but it won't hurt to get another to help our depth. 
Next is Oak Park, MI Defensive Tackle Rayshaun Benny. We are in a tight race for him with Michigan and Arkansas. He would be a great pickup for us because we are losing Kordell Looney, Phil Hoskins, and Quinton Bohanna most likely. He would be a key piece on the Defensive Line next fall.
Next is Port Saint Lucie, FL Outside Linebacker Deshauwn Alleyne. We are fighting for him with Auburn, Nebraska and Penn State. We will need someone to replace Jamar "Boogie" Watson down the road. And I believe he could be a good guy for us if we can get him. For now, at that position, a replacement could be JJ Weaver, Jordan Wright, or Jared Casey. Either way, we could use Boogie for depth and potentially use him to play in games. 
To finish this off, we got the teammate of Kyree Young from Massillon, OH. That is Athlete Martavien Johnson. I believe he fits best at WR. He has offers from Harvard, Maryland, Liberty and Navy. It is obvious we could use him. Josh Ali, Brett Slusher, Rayshad Lewis and Wesley Johnson will probably be gone after this season. I believe we have 4 Wide Receivers in this class already, but it would be a plus if we can bring five to replace four. 
That's all for this Kentucky recruiting update. Let us know who you think Kentucky gets in the comments and in our forums, here!