Here we go again. It's the end of February and the off-season seems to go by slower and slower. It's around this time that the speculations of the college football world start kicking into high gear. Conversations about what teams will have a down year, which players will shine the best, and who will make the playoff are already in full swing, and although those conversations are fun to talk about, it's still too early to tell. Spring games are still a month and a half away and the summer workouts and practices are even farther than that.
However, one of the many things that can be talked about for this upcoming season are what games can impact the college football landscape the most, specifically the non-conference games, as they can either give a team a massive boost to their morale and resume to carry on into conference play, or leave a bitter taste in their mouths that could impact their season.
Let's look at one example; LSU-Texas was undoubtedly the most important non-conference matchup in 2019. It kickstarted LSU's historic championship season with a quality win on the road versus a (at the time) Top 10 Power 5 team, while Texas couldn't seem to recover, going 7-5 in the regular season.
There are many games this year that could have the same impact. In this list we'll look at the top 10 non-conference matchups of the 2020 college football season, and how they could impact the CFB world.
Honorable Mentions
Miami @ Michigan State (Sep. 26th)
Although this game doesn't seem to have major implications, it will be interesting to see how Michigan State fares under a new head coach, and if Manny Diaz can get the train rolling for the U.
Oklahoma vs. Army (Sep 26th)
Trap game, Trap game, Trap game. Both OU in 2018 and Michigan in 2019 learned the dangers of underestimating this Army team, and the triple option is just so difficult to game plan for.
Iowa State @ Iowa (Sep 12th)
The annual battle for the CyHawk trophy is always a must watch. Although both teams are dark horse candidates to win their division/conference, it will be interesting to see how each team plays with their increasing expectations. Can Iowa state pick up their first win in the rivalry since 2014?
Florida State @ Boise State (Sep. 5th)
Everyone thought this game was over by halftime last year Florida State was up 31-19. However, Boise State came charging back and won the game 36-31, shutting out the Seminoles in the second half. With FSU looking to bounce back after a 6-7 season and Boise State looking to reclaim the title as the best G5 team in the nation, this is a must watch game.
Notre Dame @ USC (Nov. 28th)
By this time of year, these two teams will either have their fates decided or this game will determine who makes the College Football Playoff, There is no in-between. How will Clay Helton respond after constant calls for his firing last season, if he is still the head coach at this point? And can ND continue their winning streak? They have taken 4 out of the last 5 against the Trojans. Do they have the skills to make it 5 out of the last 6?
Top 10 Non-Conference Games
North Carolina vs. Auburn (Sep. 12th, Mercedes Benz Stadium, Atlanta, Georgia)
I see a fair amount of people overlooking this game, and I don't understand why. Mack Brown has put in a winning mindset at UNC; don't let last year's record fool you. Although they finished 7-6, they never lost a game by more than 8 points, with two of those losses coming in OT, and an almost upset victory over Clemson. This game for UNC comes after a trip on the road vs UCF and starting the season 2-0 against these opponents could help boost UNC up the ACC ladder. Auburn is an interesting case, as this will be the first true test under the Chad Morris/Bo Nix offense, along with how well Auburn replaced 4 former starters on the offensive line. Will Nix and a deep running back core for the Tigers be enough to top the Tar Heels? As for the grand scheme of things, Auburn has a tough schedule towards the end of the season, with their last two games against LSU and Alabama, as well as playing at Georgia early on. If they want to make the CFP, they cannot afford an early season loss. However, this is UNC's, as well as the ACC's, chance to show the world that their conference isn't "Clemson and Friends" and that the depth of the ACC should not be overlooked.
Penn State @ Virginia Tech (Sep. 12th)
This matchup gives vibes of a game that will originally fly under the radar but could become an instant classic. VT had a bad end to the season, losing to their rival Virginia for the first time since 2003 and losing their bowl game to a Kentucky team playing a Wide Receiver at QB. However, saying that this Virginia Tech team will be experienced is an understatement, as all 5 O-linemen, their 4 best pass catchers, and their punter and kicker are coming back. The defensive side is a similar story, as they are only losing 1 safety to the draft. Penn State on the other hand is only returning 5 starters on defense. However, Sean Clifford is back again for the Nittany Lions and looks to improve on a good season from last year. This game could provide each team with a strong non-conference victory when it comes time to decide bowl games and potential CFP spots, and it can give an insight on the state of the ACC Coastal and the Big Ten East.
Georgia vs. Virginia (Sep. 5th, Mercedes Benz Stadium, Atlanta, Georgia)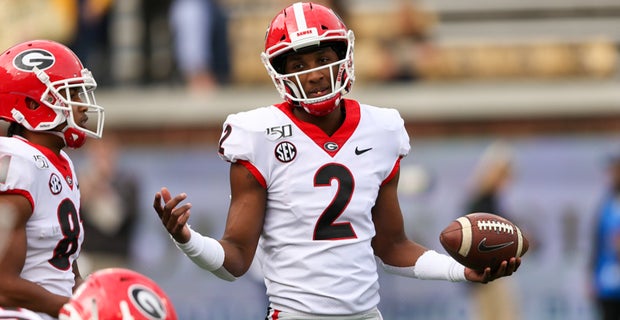 Opening Weekend has been providing us with eye-opening matchups. Although neutral site, this will essentially be a home game for the Bulldogs. Georgia will look like a very different team from last year though, only returning 10 out of the 22 starters on offense and defense. Still, a top 5 recruiting class and high expectations set in place by Kirby Smart should help lead the Bulldogs to another successful year. Virginia is coming off a 9-5 season which is a far cry from where there were just a few short years ago. Although they will have to replace Bryce Perkins at QB, which is by far their greatest loss, their defense returns several veterans to have a solid core to work around. The overall college football world will view this game to evaluate Georgia's performance, and how they fare against this Virginia team without Jake Fromm. Although Virginia is far from the same team that was playing in the Orange Bowl a few months ago, it will be noteworthy to see how this ACC-SEC matchup plays out.
USC vs. Alabama (Sep. 5th AT&T Stadium, Dallas, Texas)
Welcome to the annual "Why is this game at a neutral site, it would be better to see each team play a home-and-home series" opening week game of 2020. Regardless, this game will show the strengths and weaknesses of both teams right from the start. USC finished 8-5 last season and Clay Helton was on and off the hot seat throughout the year, and a lackluster 2020 recruit class may spell some trouble for the upcoming future. Revenge is on the table for the Trojans though, after 2016's 52-6 loss to the Tide. But, Alabama is out to prove something this season. It was the first year they missed the CFP and suffered losses to LSU and rival Auburn. Bama also lost Tua Tagovailoa, Jerry Jeudy and Henry Ruggs III on offense, as well as some key players on defense. But Mack Jones and Najee Harris are ready to take run the bulk of the offense for the Crimson Tide this year, and Nick Saban will make sure the Bama defense is ready for anything. Overall, this game will show how ready Alabama is to bounce back, and if USC can stand up and put up a fight. Because, if they get blown out by Alabama, how will they fare against Oregon, Utah, and Notre Dame?
Tennessee @ Oklahoma (Sep. 12th)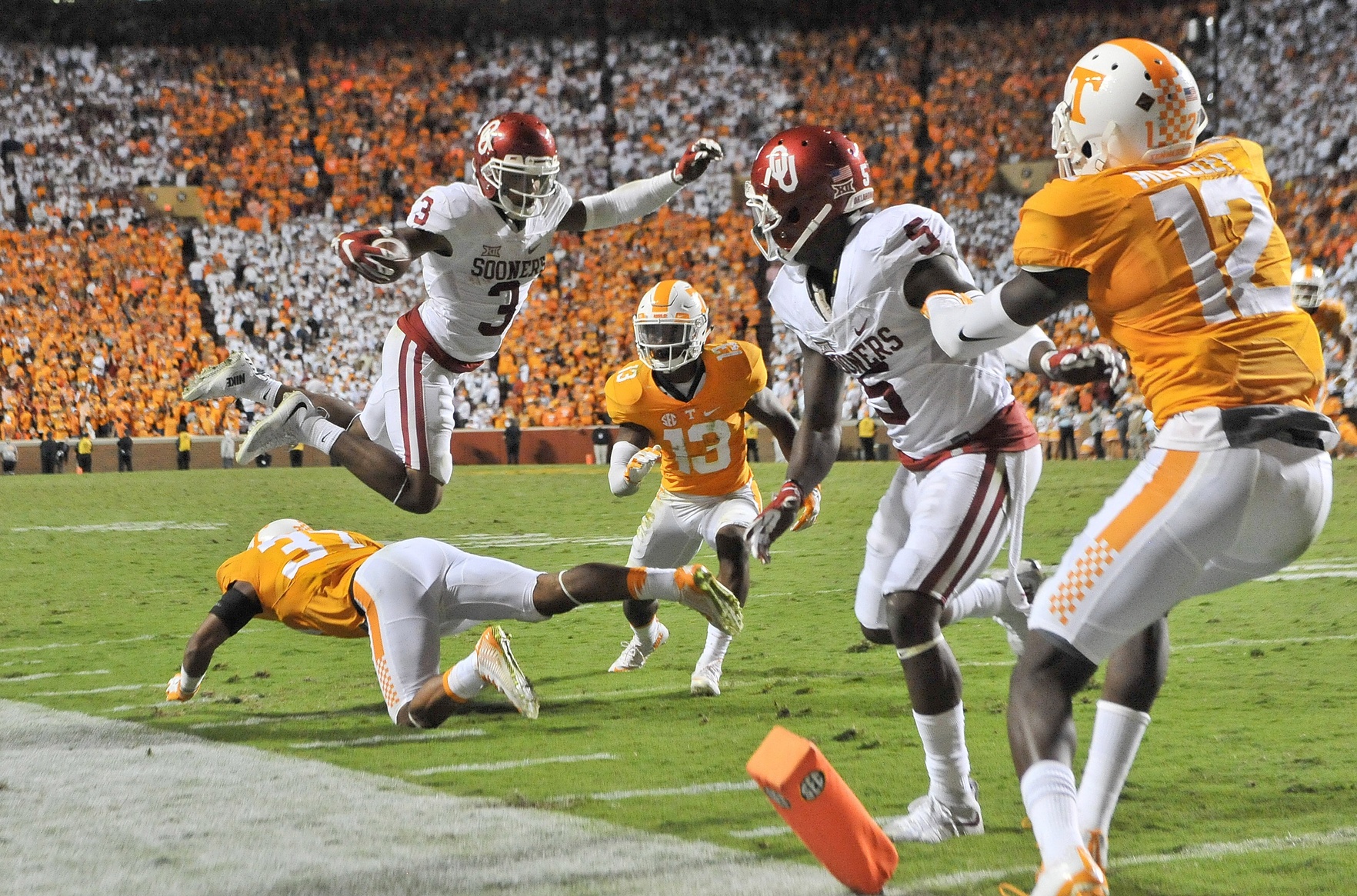 It was the 2015 OU vs. Tennessee game where Baker Mayfield made his name known to the nation. Will this game be as intriguing? Tennessee looks to continue its strong 2019 finish into this year. Even with all the drama in Knoxville, Jeremy Pruitt took an at the time 2-5 Tennessee team on a 6-game win streak to finish 8-5 with a bowl win over Indiana. With a good recruiting class coming in as well as a good number of returning starters, this game will be a great test for this rising Tennessee team. As for Oklahoma, losing a QB, a star WR, and number of key assets on defense can look troubling for some teams.But as the last few years showed, that's not the case for OU. However, this will be the first year where a Lincoln Riley recruited and trained QB will take the starting role. It will be Oklahoma's chance to show that they don't rebuild, they reload. If Tennessee keeps the game close or wins, the legitimacy of the Big 12 will be in question, while an OU win or blow out will show that the Vols still have a long way to go and the Big 12 still runs through Norman.
Michigan @ Washington (Sep. 5th)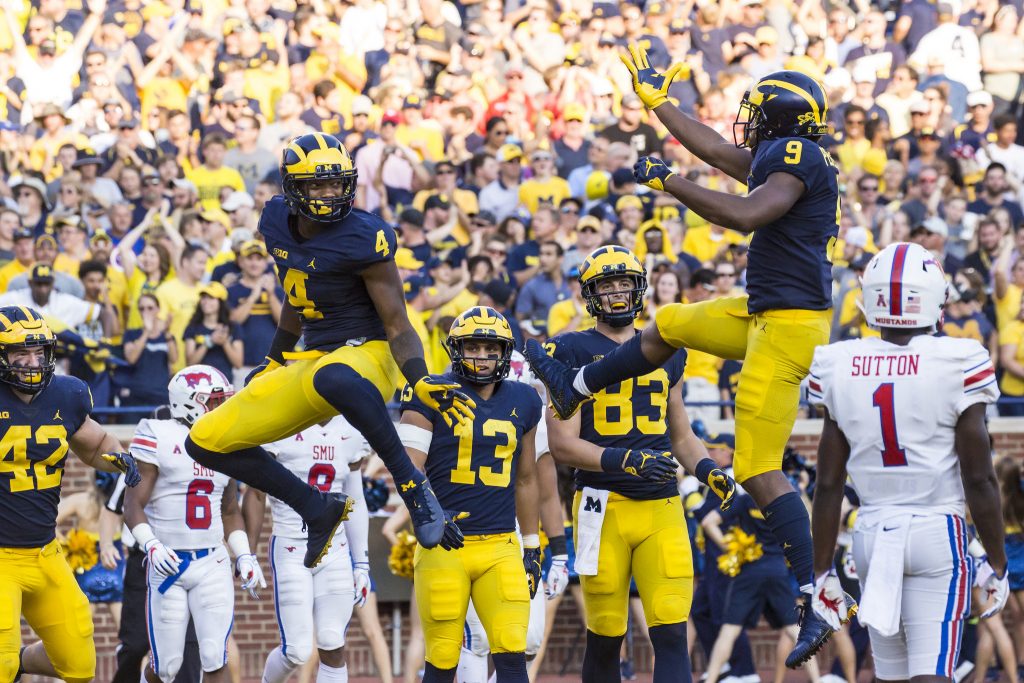 If this game were played in 2016, it could have very well been the most watched game of the year. In the year 2020, things have changed a bit, but it is still a matchup worth taking a closer look at. Jim Harbaugh's Michigan team has not been very good against good teams on the road, and after losing their starting QB, a few WRs, and several players on the defensive side, it will be interesting to see how they handle a trip to the hostile environment in Seattle. Washington had a down year last year finishing 8-5, and with the sudden resignation of Chris Peterson, former Defensive Coordinator Jimmy Lake is now the HC. With a fair number of starters returning on the defensive side, it should make for a good matchup coming September in the Evergreen State. For the rest of the college football world, more people will be looking for how Michigan does against Washington, rather than the other way around. Can this finally be Michigan's year? Can Jim Harbaugh pick up another signature win on the road? Two top teams from the Pac 12 and Big 10 week one will set the tone for the rest of the season for each team, as well as early playoff predictions.
Notre Dame vs. Wisconsin (Oct. 3rd, Lambeau Field, Green Bay Wisconsin)
We have a showdown in the Frozen Tundra on this October Saturday. Wisconsin will play this game one week after returning from Michigan in what is expected to be back-to-back top 25 games. How will the offense do without Johnathon Taylor in the backfield? Or will it even matter? Wisconsin is returning a lot of starters on defense and is expected to be one of the best in the nation. Ian Book will be in his 3rd year as a starter, and this will be his first real test. If Wisconsin loses, how can they beat Ohio State, Iowa, or Minnesota? If Notre Dame loses, how can they beat Clemson? This is a game where each team has a lot more to lose than to gain, and whoever comes out on top has a chance to control their own destiny.
Clemson @ Notre Dame (Nov. 7th)
A November non-conference game with major implications? How could we leave this off the list? This is Notre Dame's third time on this list (including honorable mentions), and this one is their most important. By this point of the season, Notre Dame will have played Pitt and Wisconsin, and could be in the mix for a bid in the CFP. They're also looking to avenge last year's loss to the Tigers. For Clemson, this game comes off a bye week, and could very well be their first ranked opponent of the season. Expectations are high for this team, and no one feels that more than Trevor Lawrence, with his sole loss coming to the LSU Tigers in the National Championship Game. A loss could put an end to either team's CFP hopes, so don't expect anything less than the best from this November matchup.
Texas @ LSU (Sep. 12th)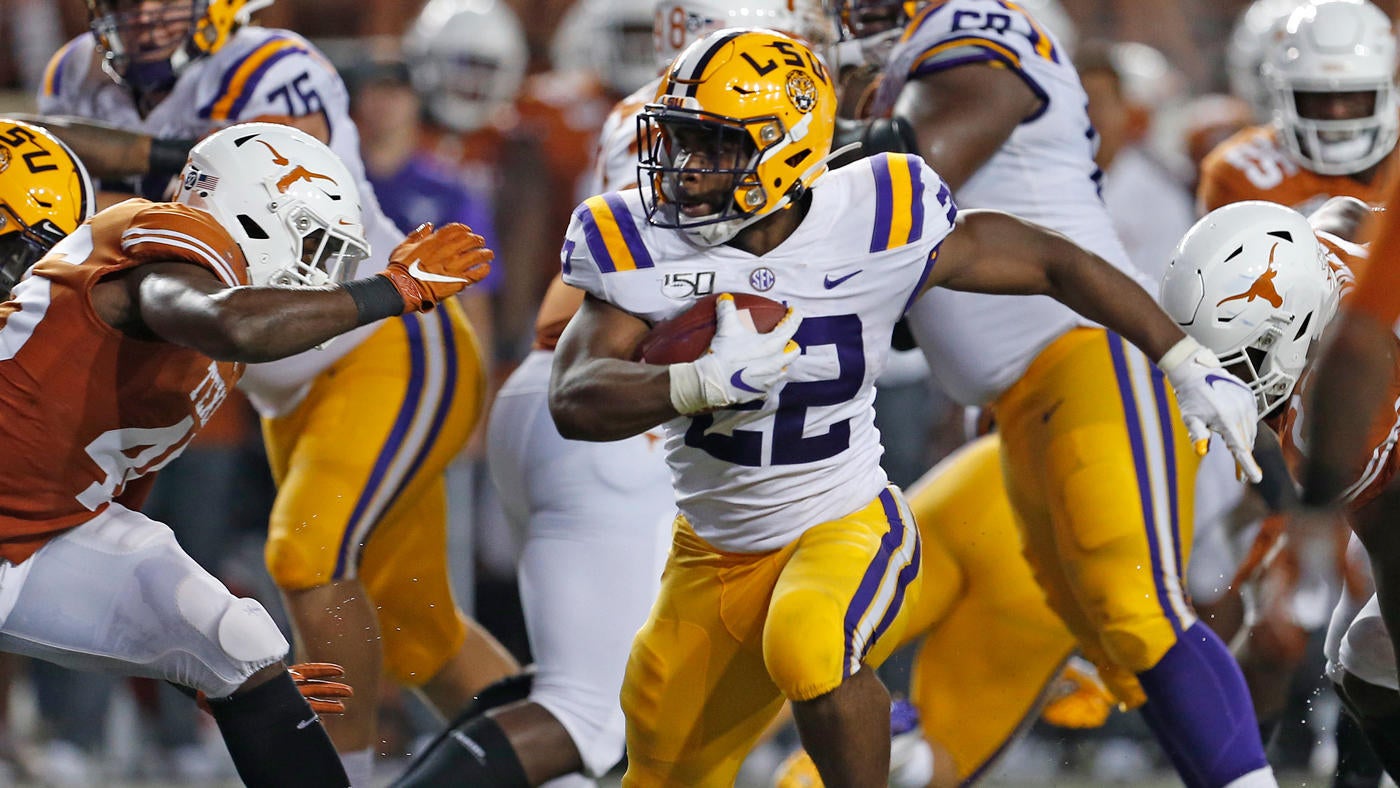 Part 2 of 2 in this home-and-home series, last year's edition was the most anticipated non-conference matchup of 2019. For LSU, this game can show that last year wasn't a one-year wonder and has a chance to prove that even with all the losses to the offense, defense, and coaching staff that they are still a force to be reckoned with. For Texas, this year is all business. The "We're baaaaaack" statement has long passed the mind of Sam Ehlinger, who has returned for another year to lead the Texas offense. For the College Football World, a lot of eyes will be on this game to see what the playoff field will look like. It seems at this point, no less than 3 SEC teams will be in consideration for the CFP come mid-November, and if you're not a fan of that, Texas is the team to root for. When it comes to teams on the outside looking in, the more losses each SEC team has, the better.
     1. Ohio State @ Oregon (Sep. 12th)
This is the top game of the year in the non-conference, as two great teams who played in the first college football playoff championship game face off again. For Ohio State, going into Eugene to face a top Pac-12 opponent will be a great test to see how the Justin Fields/Ryan Day connection has grown over the off-season, and a win on the road versus this Ducks team early on in the season could pay off toward playoff selection time. For Oregon, this will show how a Justin Herbert-less offense steps up to the challenge against a team with a strong defense, and how can their defense fair against a top scoring team in the nation? This is a chance for the Pac-12 to enforce its claim that its top teams can go toe-to-toe with the top teams of the other Power 5 conferences. Fun Fact: Oregon has NEVER beaten Ohio State (tOSU leads 9-0 in the all-time series).
Written by Sidelines – Oklahoma (@Sidelines_OU)