Coming off of a 13-0 season (and, depending on who you ask, a National Championship), UCF's Scott Frost seemed to be the hottest coach on the market. Any P5 team that could snap him up would be lucky to do so, and surely would see improvement in their player development and culture, two things he was hailed for as the Knights head coach…right?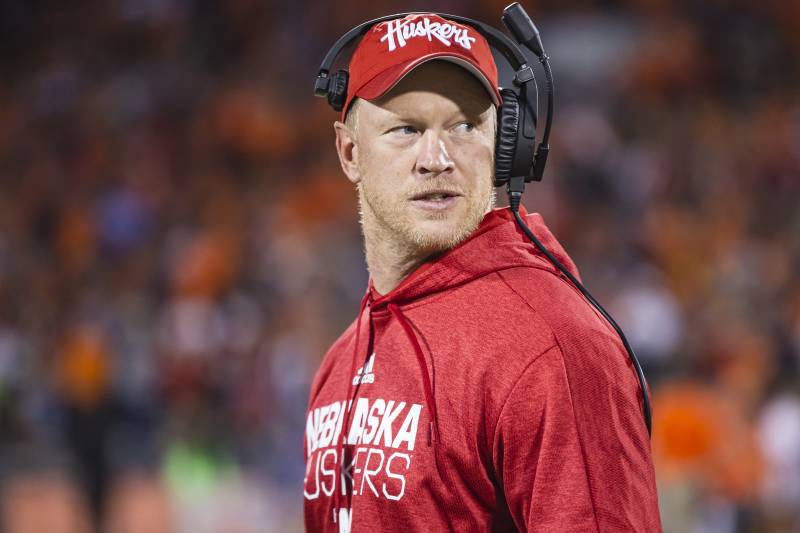 Image Courtesy bleacherreport.com
As it was quite rudely announced during UCF's conference championship game, Scott Frost was going back home to mama. His alma mater, Nebraska, offered him a 7 year, $35 million contract. That's a lot of money for any athletic program, even when you're Nebraska, who had an athletic department revenue of $120 million last year.
Some of the immediate concerns were that he had only competed against opponents from a "G5" schedule, though the American conference has been much stronger in recent years. Others were simply concerned at paying so much to a coach that was relatively unproven at the highest level, which might have been on the money after all.
As his first season approached, Frost was able to flip a few recruits and snag the 23rd overall recruitment class in the country, 4th in the Big Ten. A few preseason polls contained Nebraska, though most were able to temper their expectations in Frost's first season. He ultimately went 4-8, losing to rival Colorado in a heart-breaking season opener, and Sun Belt contender Troy in the game immediately following. In fact, Nebraska lost their first 6 games under Frost until beating Minnesota at home.
Still, a coach should always be given a year to establish a culture and bring in his guys, right? In fact, most people use the "second year test" as a gauge to determine if the head coach will find success at the school. Firing anyone before their second season is general irresponsible, save some particularly dire situations we have seen recently.
In Frost's second preseason with the Huskers, he brought in the 17th best overall recruiting class, which was once again 4th in the Big Ten. It was a competitive recruiting cycle, but fans definitely were expecting a little more (though it's tough when you have to go against the likes of Ohio State and Michigan). Still, these were "Scott's Guys" and the expectation was that he would win with them. In the 2019 offseason, a majority of preseason polls had the Huskers in the Top 25. This was proven to be a gross overreaction, especially when nothing had really changed other than time.
Image Courtesy The Denver Post
Frost's Huskers won their first game of the season against South Alabama (finally beating that pesky Sun Belt opponent), but once again lost their rivalry game against Colorado. This was one of the first times we saw large groups of Husker fans showing visible frustration under Frost's tenure. This was his second year, he had his guys, what could possibly be going wrong? Maybe it was just a bad game…
Frost went 5-7 that season, demonstrating a one game improvement in record. Two of those wins were against G5 opponents.
The purpose of this article isn't to say Scott Frost should be fired and Nebraska has exercised too much tolerance with him. In fact, one of the worst trends in college football is firing coaches before they really get a chance to establish themselves. But hasn't Frost established himself? He has brought in his guys and done the usual showy things to demonstrate a culture change, hopefully getting Nebraska as far away from the Riley years as possible. But what is their left to do? Nebraska is once again ranked in many preseason polls, becoming the over hyped poll laughingstock that Texas is usually known to be. All that Frost can do at this point is win and earn that massive contract.
Nebraska Football's "Money Cleats". Image Courtesy Sneaker Freaker
And that contract? It just got more massive. This off season, Frost was given a 2 year contract extension to 2026. This move by the athletic department demonstrated a commitment to Frost that should put away some pitchforks and even help recruiting. But does Nebraska actually have a plan for the next few years? What would it take to convince them the Frost experiment has failed?
Part of the Frost problem is hiring alumni. Alumni head coaches will always be viewed in an unfairly positive light. Look at the disaster happening year after year in Ann Arbor? I also don't think Harbaugh should be fired, and he has posted some of Michigan's best seasons in decades, but he still hasn't beaten Ohio State. Would selecting a non-alumni, but rather best coach on the market brought them over that edge?
I think the model for alumni Head Coaches is David Shaw at Stanford. He has posted an 86-34 overall record and gone 5-3 in bowls. He has also won the conference 3 times, something the Michigan Man (and certainly not Frost) have accomplished yet. But he worked his way from within the program as OC, proved himself, and has demonstrated his coaching knowledge with his team's on field performances.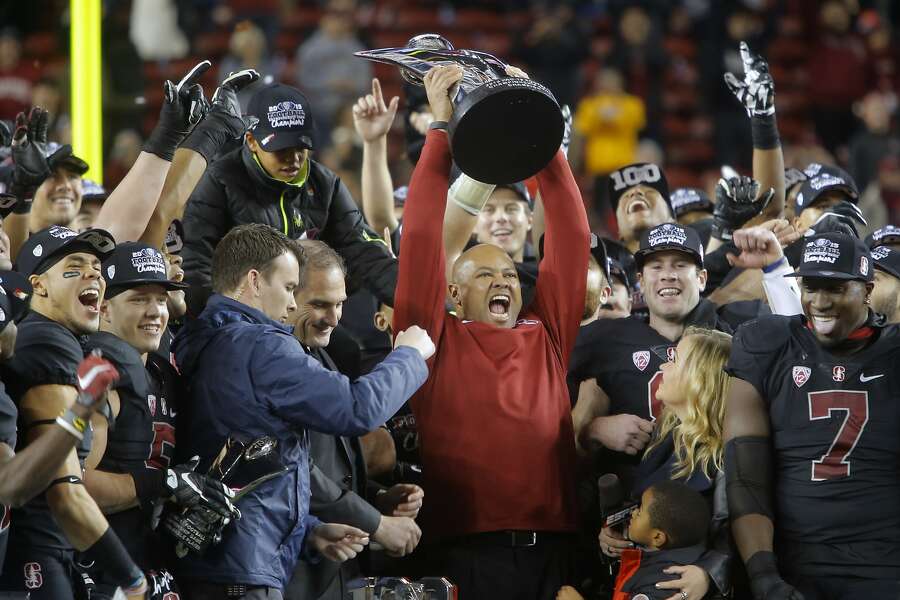 Rose Bowl Champion David Shaw. Image Courtesy San Francisco Chronicle.
Teams simply need to make sure the coach they are hiring is the best coach for them. Is motivating alumni and selling tickets important? Yes. But do you know what sells the most tickets? Winning. Big name schools that will be looking for their next head coach – looking at you, USC – need to learn what they can from the story of Scott Frost so far. Demonstrate a commitment to your coaches – but should you really be granting super contracts to them just because they played for your team already? Has the coach really proven themselves just yet?