Sidelines Sports Network was only founded in 2018 (as Grid Lines Blog – thanks to those who have supported us since then), but all throughout this decade we've been watching some incredible College Football. In this article, we highlight the moments, players and teams that we believe were the most outstanding and will truly stand the test of time. Without further ado…
Play of the Decade:
The Kick Six – Auburn vs. Alabama 2013
Sorry, you just can't beat this. BCS championship bid on the line, rivalry game, last minute chaos and a radio call heard round the world. "AUBURNS GONNA WIN THE FOOTBALL GAME" still rings in our ears. This play encapsulates the beautiful madness that is college football.
Honorable mentions: 2nd and 26, Watson to Renfrow
Coach of the Decade:
Nick Saban – Alabama
Sorry, rest of College Football. We've been bullied by one guy throughout these ten years and he sits on a throne in Tuscaloosa. While coaches like Dabo Swinney, Lincoln Riley and more recently Ed Orgeron have pulled teams to new levels of achievement, Saban has brought the Tide to a whopping 4 national championship games this decade (and made it to almost all the others). Saban owns this decade – we'll see how far he can go.
Honorable mentions: Dabo Swinney, Bob Stoops, Lincoln Riley
Player of the Decade:
Deshaun Watson
While we're on the subject of lifting teams to new heights, Deshaun Watson has to come to your mind. While he had the benefit of Swinney's coaching and a loaded roster to surround him, Watson still went toe to toe with Saban's seemingly unstoppable Bama and won. His victory also marked the beginning of a new powerhouse at Clemson, and the momentum hasn't stopped since. Though he never actually won the Heisman (but was a finalist twice), Clemson graduate Deshaun Watson is our most outstanding player of the decade.
Honorable Mentions: Cam Newton, Ezekiel Elliott, Johnny Manziel
Team of the Decade: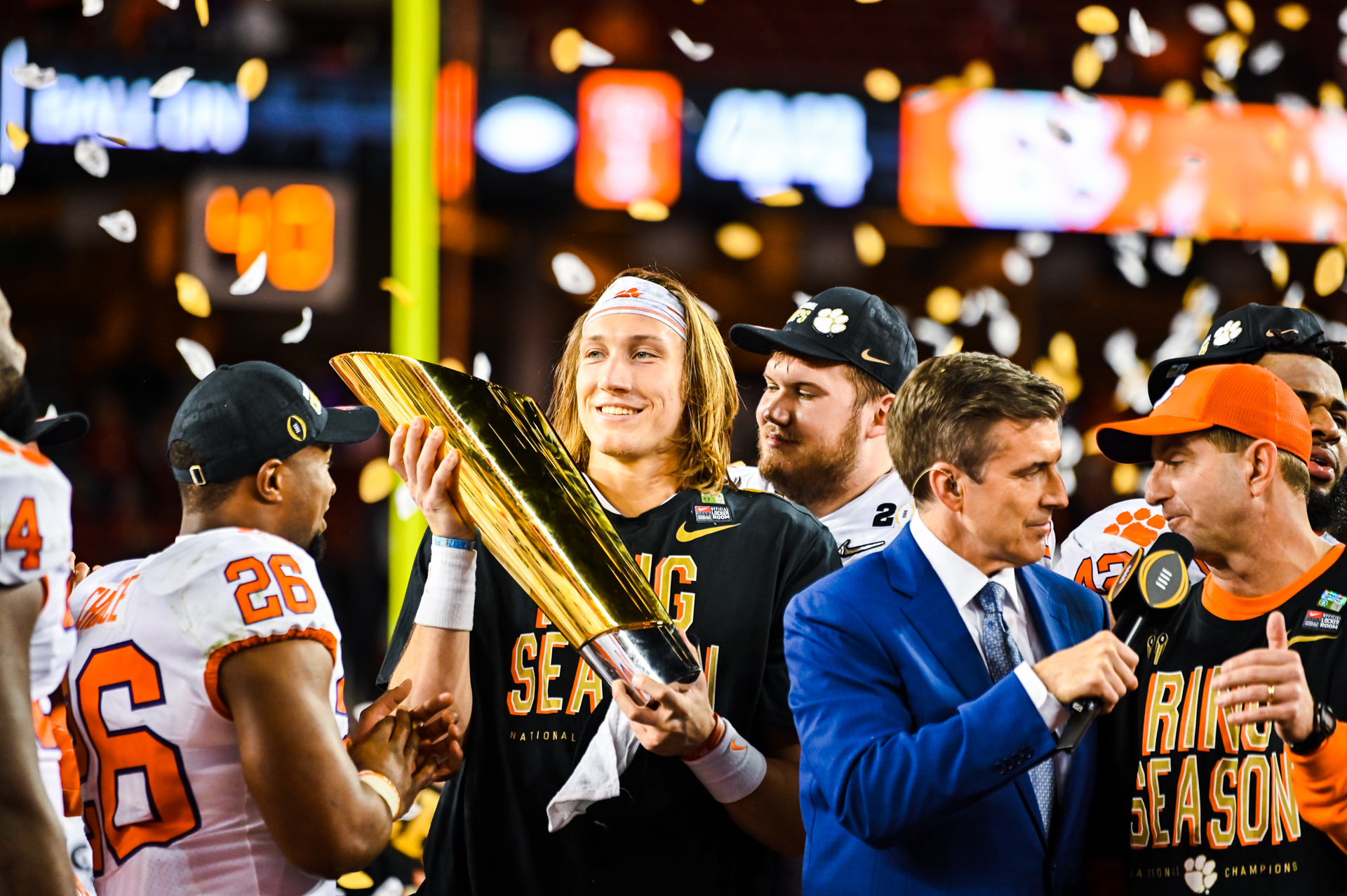 2018-19 Clemson (15-0, National Champions)
Yes, two Clemson winners on the list – but it's deserved. First of all, the 2018 Clemson team was the first team to go undefeated in the playoff era at 15-0. That alone merits legend status, but how they got there is equally as impressive. Clemson cruised through their ACC schedule with nothing more than a close game here and there, then crushed undefeated Notre Dame in the semifinal 30-3. In a championship game of undefeated teams that everyone expected to be fairly close, Clemson absolutely demolished Alabama 44-16. Dabo outcoached Saban at every level and Trevor Lawrence was nothing but a gunslinger. The Clemson Defense also lived up to their reputation and put Alabama in a chokehold. It's worth noting that whichever team wins this year will also go 15-0, and both Clemson and LSU could have a strong case to finish as team of the decade – but for now, no one tops the 2018 Clemson Tigers.
Honorable mentions: 2011 Alabama, 2013 Florida State, 2014 Ohio State
Fans of the Decade: YOU!
And that's a wrap! This was the first year of Sidelines Sports Network, and we have no one but our fans to thank for our success. It's been an incredible ride, and we have massive plans for growth. Keep engaging with us on our Twitter (@Sidelines_SN and affiliate accounts) and reading our articles – the best is yet to come!