March 20, 2018, the AAF was announced by Charlie Ebersol. Football fans around the nation (and some around the globe) lit up with excitement; spring football once again! A new generation of sports fanatics had grown up since the last attempt at a secondary professional league (the last being the infamous XFL failure in the early 2000's) and with time, a sense of optimism had grown. Many believed that enough had changed between streaming options, technology, and simply learning from past mistakes that another football league was viable.
Image Courtesy of USA Today
In short, people believed in the vision of the AAF.
It wasn't just unfounded optimism though. Ebersol and his co-founder, Bill Polian, seemed to have a clear plan. TV deals were made. Advanced technology, integrated into a live tracking app, marketed the league as not just football, but a true tech startup. Teams were to be managed by the central office rather than individual owners.
As with all startups, however, there were concerns. The AAF didn't have quite the budget Vince McMahon and the other spring league launching the following year, the renewed XFL. The app had a rocky roll out and was barely ready by the time the season began. Even when it was released, it was clear it was not everything it was hyped to be.
Image Courtesy of Tampa Bay Times
Still, fans got what they wanted. Eight teams were announced complete with fairly nice looking uniforms from Starter and intriguing brands, all tied in with their respective local cultures. People took to social media to claim a team, some choosing based on location, others on NFL or college football affiliation, and others even on something so simple as thinking the Stallions had cool helmets.
Play began on February 9, 2019. It was no NFL, but it was football. Trent Richardson immediately became infamous for his consistent less-than-3-yards-per-carry. Bercovici became the face of the league my taking a monster, helmet-removing hit. And of course, everyone was just happy to see Coach Spurrier take to the sideline once again.
Image Courtesy of Black Sports Online
All those story lines began in just week one. In the weeks that followed, the Apollos would go on a dominant run (finishing the season with the best record, 6-1), the Express, Legends and Stallions would become the butt of most jokes but still claim an upset every now and again, and the Iron would continue to be a monster on defense – although, often struggling on the other side of the ball.
And of course – Money Manziel. Johnny Manziel's arrival to the league came with much more excitement than his actual play ever would. Still, his exit from the CFL back into American professional football was talked about everywhere. Manziel, in his short time as unofficial league spokesmen, kept his cool and did seem to be more mature than prior years – even if his main moment of fame was eating nachos on the sideline.
Image Courtesy of USA Today
The main point of these recollections is that, although an upstart league that so desperately wanted to become a feeder for the NFL, the AAF really was capable of carrying its story lines. It delivered a product that fans, although often not enough in person save for the packed Alamodome, wanted to see. It really seemed that the league had a chance.
Financial struggles were the first nail in the coffin. Rumors began swirling, and news broke that another investor was desperately needed to save the league. Tom Dundon emerged as the leagues savior, offering 250 million dollars and easing the minds of anxious fans, so afraid to lose what they had gained. Dundon had big plans, and sentiments of praise were seen on all corners of the internet, from tweets to memes on Reddit.
But then Dundon's plans got a little too big.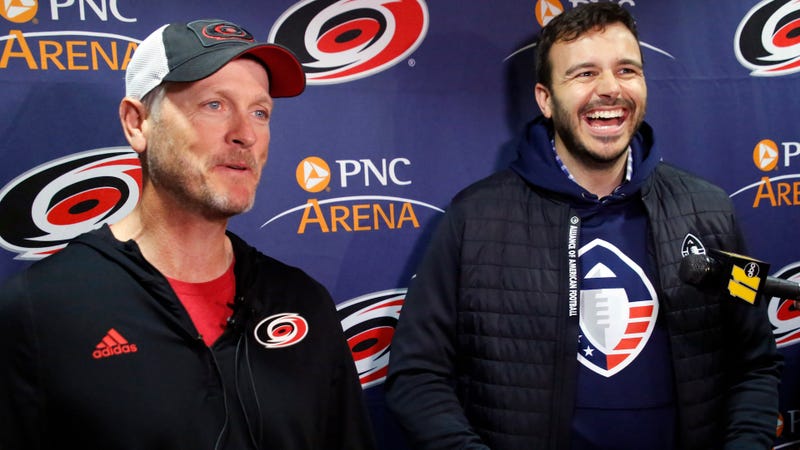 Image Courtesy of Deadspin
Fans who closely followed the ensuing drama remember that no one really knew what was going on – reports that Dundon was playing hardball to get a deal with the NFLPA to formalize the AAF as a development league began to come out. This had been the plan from the beginning, as most were aware, but it was believed Ebersol and Polian were going to wait until the NFLPA contract was renegotiated in 2020. Whether Dundon had information that the fans (and, for that matter, Ebersol and Polian) did not, or if he was just desperate to see a return on his massive investment, it's not really certain. What we do know is what followed – after seven entertaining weeks of football, Dundon began threatening to fold the league if an agreement with the NFLPA did not come to fruition.
The agreement was never made.
On April 2, 2019, it was announced the league was suspending operations. Shortly afterward, notices of termination were released to league staff and, crossing the point of no return, all players released from their contracts effective immediately. In just a few short weeks the league went from riding the high of success to nothing but assets, waiting to be sold off.
Image Courtesy of Sports Illustrated
Fans, understandably, were outraged. People began crying for Dundon's head, since he seemed to be at fault for this. Some postured that he simply wanted the league's valuable technology and IP, and simply left it for dead when he had secured what he wanted. Other saw Dundon as just a reasonable businessman, realizing a profit wasn't going to happen and then folding to stop the bleeding. After all, he had lost 70 million dollars in just a few weeks.
When the dust settles, it will probably come out exactly what happened. Some compensation packages will surely be arranged. Remaining assets will be sold; the XFL may even snatch some up. But when all is done and the AAF is but a footnote on the tragic history of startup football leagues, there will be something left behind. Fans will hold onto their T-shirts – some may have not even delivered yet. Hundreds of abandoned Twitter accounts dedicated to the league will go inactive. Future articles on Trent Richardson and Johnny Manziel will always reference the few weeks we had together. But there's not just these archives. Fans will have the memories. Those who sat in Legion field, baking in the Birmingham heat to catch a glimpse of football in the spring. Those in San Diego, so excited to finally have professional football return to their city. Apollos fans, happy to see a Florida pro team find success again.
Image Courtesy of Pewter Report
Every team had their stories, and every fan will have their memories. It's soul-crushing that this is all we have now, especially when we all hoped – all believed – that this league could be different. Reality hits hard. People want someone to blame. But in this eulogy for the AAF, I just ask we all remember the good times we had. Short-lived as it was, the AAF was something special – and I don't want it to only be remembered for it's demise.
Grid Lines Sports Blog has covered the AAF since prior to its inception. We assembled and published weekly power rankings. We will continue to cover College Football and other professional sports leagues, and hope fans that found us through the AAF stay with us for this other coverage.