by Hunter Martinez-Buehrer (Sidelines_OU)
Here we are at last. College football finally kicked off and one week (well, two if you count week 0) is now in the record books. But one thing that has piqued my interest is those record books. Back in High School when I played football, my coach would always do a pep talk that he called "Did you know" where he would talk about the history of our team vs. our opponent before the game. This was a fun tradition, and I've decided to bring it over to the College Football landscape as a recap instead.
So here it is, A mixture of knowledge and a recap of a few of the games from Saturday in our first edition of "Did you know?"
Did You Know? Oklahoma vs Missouri State
Oklahoma's 48-0 rout against Missouri State is the team's first shutout since 2015 when they beat Kansas State 55-0.
Did anyone really expect the Sooners to struggle in this matchup against this FCS team? No, of course not. But did anyone expect the Sooners to hold the Bears scoreless and to only 135 yards total? Maybe some of you, but still an impressive feat nonetheless. Spencer Rattler's first start as QB went as well as you can do. His stat line tells the whole story, where he went 14-17 for 290 yards and 4 TDs. His two big throws went for a 58 yard TD to Marvin Mims and a 53 yard TD to Charleston Rambo. The defense held the Bears to a total of 135 total yards, only 7 first downs, and had 1 interception. This performance is eerily similar to their 2015 game against Kansas State, the last time OU shut out an opponent. In that game, the Wildcats only had 110 total yards, 7 first downs, and 3 turnovers. The Sooners are back in action in 2 weeks when they play the Wildcats of Kansas State.
Did You Know? FSU vs Georgia Tech
Georgia Tech's 16-13 road win over Florida State is their first road game win against an ACC opponent to open up a season since 1996.
Well, this was certainly a surprise. Florida State had higher expectations after bringing in Mike Norvell from Memphis, but as it turns out, the former-FSU-commit-turned-Georgia-Tech-QB Jeff Sims helped push the Yellow Jackets to victory. He went 24-35 with 277 yards with 1 TD and 2 INT. What really sealed the deal was the mistakes by Florida State, who committed 3 turnovers throughout the entire game, including a fumble deep in their own territory which let the Yellow Jackets take the lead late in the game. The entire game was full of mistakes on both sides though, as Georgia Tech had turnovers, missed field goals, and bad offensive drives. This was evident in the score at halftime where FSU had a 10-0 lead. However, the Seminoles just couldn't pull away, and their mistakes on offense and turnovers on defense lead to GT to come back and eventually take the win. This win is special, as it's the first time GT has won an opening game on the road vs. an ACC team since 1996 when they beat Wake Forest 28-16 with a strong performance by eventual College Football Hall of Famer Joe Hamilton.
Did You Know? UTSA vs Texas State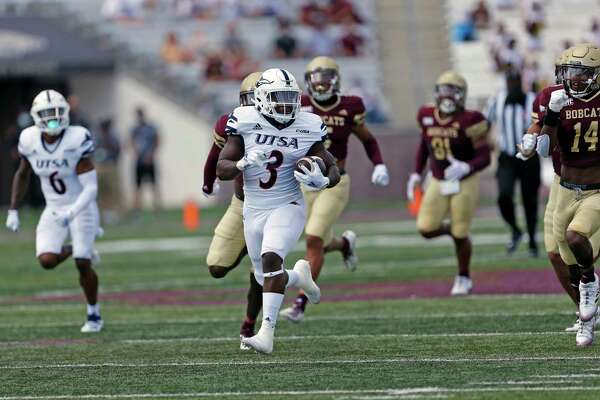 This was the first year in the I-35 rivalry between UTSA and Texas State where the game went into Overtime.
If I told you about a game where both teams had around 500 yards, both teams had more than 20 first downs, you had a pick 6 for one team, both teams scored more than 45 points, AND it went into 2OT before we had a winner, would you want to watch?
Look no further than Bobcat Stadium in San Marcos, TX where the Roadrunners of UTSA and the Bobcats of Texas State did battle Saturday night in a 51-48 shootout in probably the best game of this rivalry, to which UTSA now holds a 4-0 all time series lead dating back to 2012. It started looking like an early UTSA rout, with the Roadrunners taking a 24-7 lead by halftime, however the Bobcats came storming back to tie it at 41, and would have won the game if not for a missed PAT, which sent the game into overtime. There, after the teams traded touchdowns, Texas State kicker Alan Orona missed a field goal from 20 yards, and UTSA won the game on the next possession with a made field goal of their own. Stars of the game go to Texas State Quarterback Tyler Vitt, who went 26/40 with 346 yards and 4 TDs (along with 2 INTs) and UTSA running back Sincere McCormick, who had 197 yards on 29 carries with 1 touchdown. Seriously, go watch the highlights (or full game) if you can, this will definitely be a hidden gem for this season, and has been the best game in the entire history of meetings between these two teams.
Did You Know? Coastal Carolina vs Kansas
Coastal Carolina now has a 2-0 all time record vs. the Big 12 conference* and are 2-1 against P5 opponents under head coach Jamey Chadwell.
*Yes, I know, it's Kansas, but can you still understand how absolutely insane that is? The Jayhawks didn't just lose, they were throttled. The Chanticleers scored 28 straight points before the Jayhawks were able to put points on the board with a field goal.
The real star of the game was Coastal Car. QB Grayson McCall, who went 11-18 with 113 yards and 3 touchdowns in the air. On the ground, McCall also had 73 yards on 11 rushes with 2 touchdowns. That's right, McCall had a role in every single touchdown that was scored by the Chanticleers. This recently absorbed school into the FBS level has now never lost a game against a Big 12 opponent.
The other Big 12 school they played was West Virginia, but that was before the Mountaineers joined the Big 12 Conference, so in my eyes it doesn't count as a game against the conference. This matchup was a lot more entertaining compared to last year though, as the score was 12-7 in 2019. However, the clear elephant in the room is how far Kansas and Les Miles still need to go before the Jayhawks can be excited for something other than basketball. The Big 12 overall had a rough time with the Sun Belt conference last night, as Kansas State and Iowa State also lost to Sun Belt members Arkansas State and Louisiana respectively.
So, did you know all four of these facts? If you didn't, now you know!
Want to help support SidelinesSports.Net while wearing the same watch as pro athletes? Check out our sponsor La Touraine and use discount code SIDELINESSN at checkout! CLICK HERE!